Welcome to Auchenfranco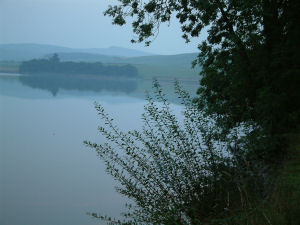 The self catering farm house accommodation is set in an idyllic rural location, yet is only 6 miles from the busy market town of Dumfries.
The house is surrounded by rolling Galloway countryside and a short walk across a field takes you through private woodland down to the shore of Lochrutton.
One of the major benefits of living at Auchenfranco is its location; we feel very privileged to be here and we hope you will feel the same when you come to stay.
Although the farmhouse could probably accommodate twice the number of visitors, we have deliberately set the maximum occupation at 4 adults in order to preserve the atmosphere of unhurried tranquillity, with space to relax and chill, away from hassle and bustle of everyday life.
The farmhouse has its own private garden, sheltered with mature trees & shrubs for you to relax in. In front of the farmhouse are paddocks, currently being grazed by sheep. Beyond the paddocks is an area of around 10 acres of broadleaved woodland and reedbeds leading to the lochside. This area is fully fenced off making it a perfect place to exercise dogs off the lead, leaving them free to roam, checking out interesting smells or maybe a swim.
The combination of woodland, reed beds, meadows & shrubs attracts a wide variety of bird species including buzzards, woodpeckers, tree creepers, waterfowl, swallows and huge flocks of starlings to name a few. There are also animals such as deer, badgers, bats, otter & hare in residence but you'll have to be patient or lucky to encounter these shy animals.
You could also while away the hours coarse fishing on Lochrutton Loch, for pike, bream, tench or perch - we'll even supply the worms! Just bring your rods.
Dumfries and Galloway is the perfect place for a holiday, peaceful and relaxing with plenty to see and do.